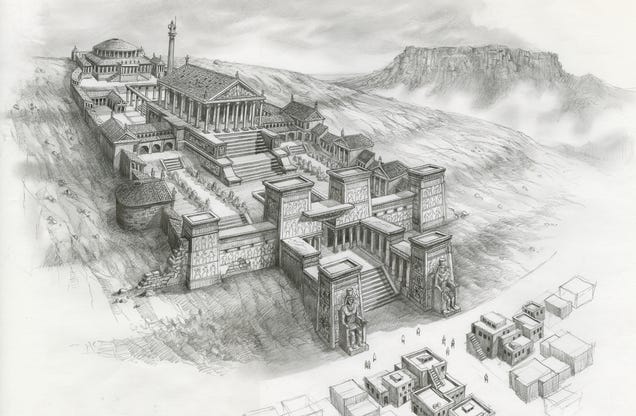 A reconstruction drawing of what the Library at Alexandria may have looked like
The fire that burned the great library in Alexandria is one of the greatest tragedies in ancient history. Alexandria was a Hellenistic city founded in Egypt, the epicenter of Alexander the Great's achievements, and a city of wealth and learning. A place where foreign scholars were paid to come and study in honor of the Ptolemy. The great library, built in 283 BCE, had lecture halls, laboratories, an observatory, a dining hall and a zoo! The collection of books supposedly was over 500,000, and at one point, over 100 scholars lived there full time.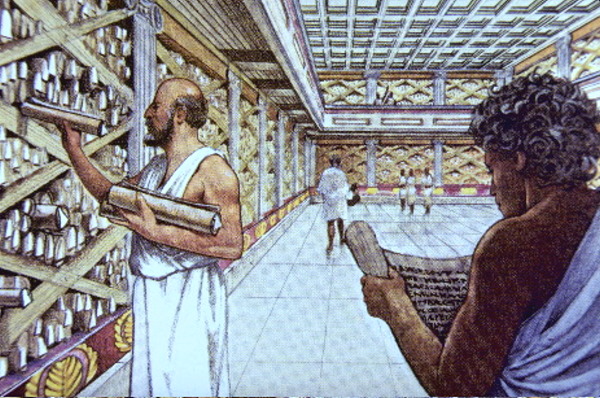 The Great Library Scrolls
The scholars did not have to teach or write in return for their studies and the palace supported their research. It truly was an intellectual Shangri-La, if you will. Unlike many of the libraries that existed in the ancient world, the library at Alexandria was open to anyone who could prove themselves a worthy scholar. It was at its very core a democratic institution. The loss of the library at Alexandria was so devastating because the works of many Roman scholars, literary geniuses, and historians were destroyed and lost forever. The fact that this state subsidized center for the imaginative and the intellectual burnt to the ground in one fell swoop is a tragedy that has always pulled at my nostalgic heart strings.
Here comes the devastating part. I recently read an article that disproves the catastrophic fire. The library at Alexandria was doomed mostly to budget cuts. Budget cuts?! How anticlimactic! An all too human foible is to blame for the loss of the greatest library of all time?!
Certainly, Alexandria was known to be a volatile city as Christians, Pagans and Jews lived there together, so surely there was a fire or two. Or three. But recent scholars have suggested that it is not the fires that doomed the library, but the gradual decline in support. Library historian
Heather Phillips
writes:
"Though it seems fitting that the destruction of so mythic an institution as the Great Library of Alexandria must have required some cataclysmic event . . . in reality, the fortunes of the Great Library waxed and waned with those of Alexandria itself. Much of its downfall was gradual, often bureaucratic, and by comparison to our cultural imaginings, somewhat petty."
Pretty disenchanting rendition, huh? The catastrophic fire is at once heartbreaking and inescapable, while budget cuts seem egregious and way too close to home. How is it that humans could lose site of the common collective for intellectual betterment? Could it happen again and/or is it happening again? It seems like you hear a lot in the news about libraries facing budget cuts across the country. Has history taught us nothing? Research shows that the country's highest-performing students come from schools with excellent library centers.
As we have recently voted in a whole new sector of representatives for our country, time is of the essence in speaking our minds about how important our libraries are to us and why. I would hate to see the digital libraries of the 21st century be mythologized as ending in a natural disaster of epic proportions. Let's be honest, let's get real, and according to Gwyneth Jones, [librarians] get more like Lady Gaga!
Here is Gwyneth Jones,
The Daring Librarian's Blog
on how so:
"Times are tough all over for education. Superintendents and administrators are making some hard financial decisions. Any position that does not have constant student interaction, testing expectations and direct grading is vulnerable. Librarians and school libraries are at a crossroads.
This is one of the most exciting times to be a teacher-librarian in our country and is also the scariest. A revolution is at hand, and we need to be nimble, daring, digital and shift both our practice and the way the world thinks of school librarians and libraries. Some revolutions compel you to throw everything out. This revolution is easy ... keep what you love but just make a shift.
Author Seth Gordin recently said: "A librarian is a data hound, a guide, a sherpa and a teacher."
I like that... We are NOT expendable because we are guiding the minds of our students to lead them to become life-long learners, curious searchers, and good digital citizens.
Librarians must teach Google ed and social media ed because we know kids are going to connect and create online, and its better that they do it with knowledge, discernment, responsibility and ethics. We must shift our language, adding words like attribution, tagging, widget, Creative Commons, transliteracy, and authority.
Shift perception! We need to be more like Lady GaGa than Lady Bird Johnson. We need to establish a clear, pervasive, vibrant, and involved presence in their school, community, and on the web. The more visible librarians are the less likely that they'll be taken away. Those teacher librarians who are hiding their brilliant programs under a bushel, that's when they're most likely to get cut.
We need to stay positive, be proactive, and always be professional!"
I think these two would agree!!
Claudius Ptolemaeus
Lady Gaga
(And just to be on the safe side, don't play with matches in the library)